Band Protocol Launches Decentralised Oracle Solution on Cronos Mainnet
Band protocol's oracle solution is now live on Cronos, the blockchain network backed by Crypto.com. This integration will help to further…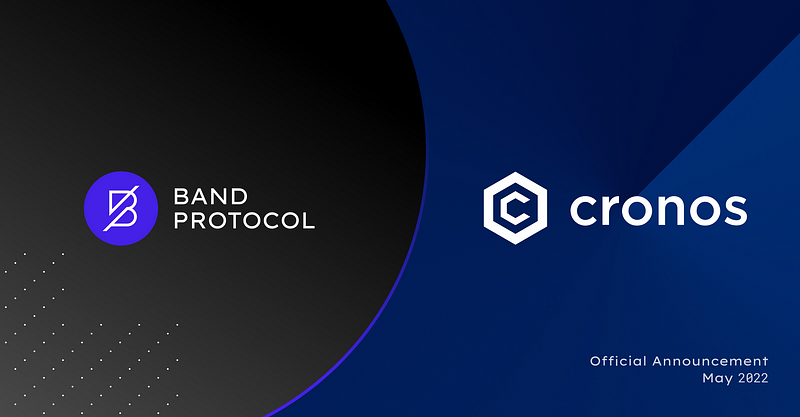 Band protocol's oracle solution is now live on Cronos, the blockchain network backed by Crypto.com. This integration will help to further enhance the already rapidly growing Cronos ecosystem as we strive to provide reliable external data feeds for developers in a decentralized manner. Our scalable oracle solution can ensure developers on the Cronos network, especially those in DeFi, that they can rely on a fast and accurate list of growing price feeds for crypto assets, commodities and foreign exchange from the Band Standard Dataset.
The Band Standard Dataset currently includes a collection of over 80+ qualified data feeds from a growing number of data sources. These reliable and decentralized price feeds provide current and new DApp developers with the ability to be creative, agile, and flexible when developing and deploying DApps on the blockchain network. Furthermore, our End-to-End customization gives developers room to tailor specific DApp requirements so that DApps can operate more effectively and reliably. Most importantly, Band Protocol is a tried and tested oracle as it has been operating since 2018.

About Cronos
Cronos, an EVM compatible Layer 1 chain built with the Cosmos SDK, is an interoperable blockchain ecosystem that aims to provide developers with all the necessary tools to develop DApps from DeFi to NFTs and metaverse. Cronos officially launched its Mainnet Beta on November 8th last year and has racked up over USD 4 billion Total Value Locked in Defi protocols at its peak in April according to Defilliama.
The Inter Blockchain Communications (IBC) protocol allows the Cronos network to interoperate and bridge with Crypto.org, as well as other IBC-enabled chains in the Cosmos ecosystem. Cronos is an open ecosystem that is fully stacked with all the necessary tools and infrastructure, as well as various funding and grants programs for DApp developers to succeed. The Cronos Ecosystem Grants is led by Cronos Labs, a Web3 start-up accelerator of the Cronos Ecosystem, with an initial funding of USD 100 million. Various supports ranging from technical and marketing to VC introductions are generously provided to developers. The ecosystem continues to rapidly grow with over 200 DApps and partners deployed on the mainnet to date.
VVS Finance and MM Finance are some of the notable DeFi protocols that have made headlines of late as both of the projects had over USD 1 billion in Total Value Locked during this year's Q1.

About Band Protocol
Band Protocol is a cross-chain data oracle platform with the aspiration to build high-quality suites of web3 development products. The flagship oracle solution aggregates and connects real-world data and APIs to smart contracts, enabling smart contract applications such as DeFi, prediction markets, and games to be built on-chain without relying on the single point of failure of a centralized oracle. Band Protocol is backed by a strong network of stakeholders including Sequoia Capital, one of the top venture capital firms in the world, and the leading cryptocurrency exchange, Binance.
Website | Whitepaper | Telegram | Medium | Twitter | Reddit | Github