Community
Band Protocol Community Update: May 2022
It's been a great start to Q2, and an eventful and busy Q1 for Band Protocol.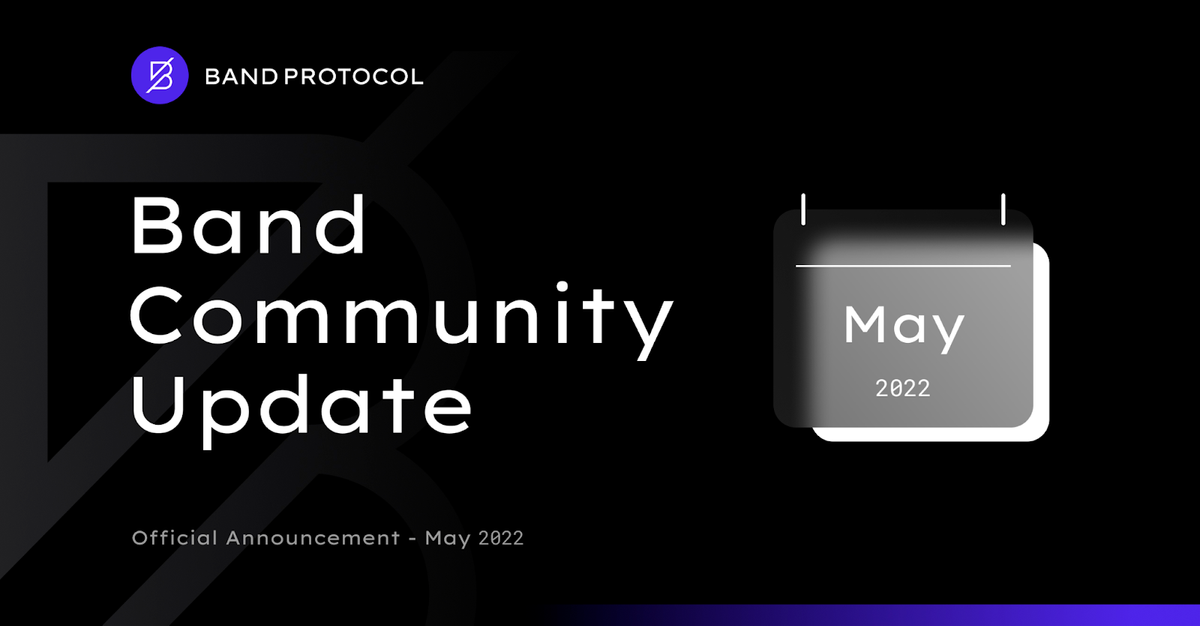 Dear Band Community,
It's been a great start to Q2, and an eventful and busy Q1 for Band Protocol. As such, I would like to take this opportunity to update the Band community on our recent developments on a couple of fronts: 1) Partnership summary, 2) Product Developments and 3) Band Team. We would also like to personally thank the community for riding with us — we cannot be here without you! And without further ado, let's get to it:
Partnership summary
In accordance with Band's community roadmap announced in early March, we have ended Q1 as planned, with expansion of Band Oracle and BandChain usage via lots of existing new partnerships and integrations. Whilst we cannot issue official announcements until our partners have themselves announce either their respective new products that leverage Band Protocol or their official mainnet launches, we have provided an overview summary below. For partners that have already announced, we provided their names and associated links — please stay tuned for those that have yet to announce and check out our follow-up medium articles when they come out!
Testnet integrations
Nervos testnet migration
Chee Finance on Celo
Defi on Terra (announcement pending partner)
Multichain smart contract platform (announcement pending partner)
Defi on Secret Network (announcement pending partner)
Mainnet integrations
Sienna Network on Secret chain
Linear Finance on BNB — additional feed
EVM compatible chain (announcement pending partner)
Multichain smart contract platform (announcement pending partner)
Protocol on Terra (announcement pending partner)
Utility partnerships
On top of April being one of the busiest months to date when it comes to integration, we were also able to integrate and deliver price feeds on one of our partner's mainnet within 1.5 weeks i.e. less than 1 sprint as we operate on a 2-weeks sprint basis, setting a new precedent for our team. It is important to note that we were able to do this as a result of heavy and continuous process improvements internally.
As a closing thought on partnerships, these successful integrations have led to more leads and potential partnerships with many more dapps and chains; as of today we are actively working in-dept with 5 leads. This does not include those that we are already in discussions with, but have yet to align processes/launch timing.
Product Development
As part of the initiative to create a more streamlined internal structure and process optimisation to best support our partners and better communicate with our community, we have carved out existing Band products into three categories, namely:
Business-led products
Operations-led products
Pyband/Bandchain.js: These are two libraries that are used for interacting with BandChain using gRPC protocol
OS/DS deployer: Deploys the specified oracle script (OS) or Data Source (DS) to the specified network and environment
Band Oracle internal tools: Including, but not limited to, internal tool which verify assets/symbols that before they can be added to Band Standard Dataset
Tech-led products
Bandchain internal tools: Including, but not limited to, internal tools for monitoring and maintaining BandChain
In the above, short descriptions by product, as well as associated links to medium articles, have been provided. We hope that this brings more clarification to Band products which surround our flagship Oracle offering.
The aforementioned list only comprises our EXISTING products, and we are working hard to deliver NEW products. Some of which were mentioned in our community roadmap so stay tuned for more to come!
Band Team
Band as a company has undergone iterations of process improvements and optimisation, and have come out stronger than ever with clear processes and structure. Our company is driven by three core teams, namely Business, Operations and Technology.
This structure also reflects the product-led nature of our company and, within due course, we plan to announce more about our team and showcase their work on product releases and tech upgrade. Last but not least, we will continue to grow and improve to best serve our partners, customers and our community as a whole.
---
About Band Protocol
Band Protocol is a cross-chain data oracle platform with the aspiration to build high-quality suites of web3 development products. The flagship oracle solution aggregates and connects real-world data and APIs to smart contracts, enabling smart contract applications such as DeFi, prediction markets, and games to be built on-chain without relying on the single point of failure of a centralized oracle. Band Protocol is backed by a strong network of stakeholders including Sequoia Capital, one of the top venture capital firms in the world, and the leading cryptocurrency exchange, Binance.
Website | Whitepaper | Telegram | Medium | Twitter | Reddit | Github