Update
Band Protocol Integrates with Findora to Enhance Secure DeFi Applications on the Findora Mainnet Network
Band Protocol and Findora have joined forces to empower developers on the Findora network to build more reliable lending protocols, decentralized exchanges (DEXs), and other DeFi applications.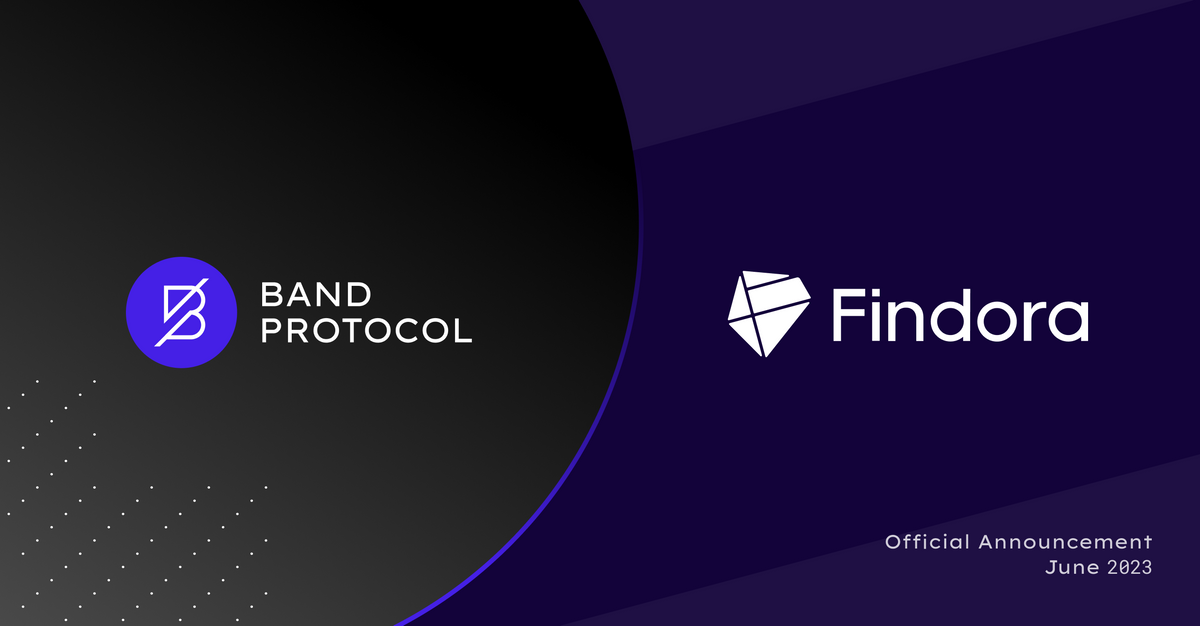 Leveraging Band Protocol's price feed oracle services for reliable and secure DeFi development.
Band Protocol and Findora have joined forces to empower developers on the Findora network to build more reliable lending protocols, decentralized exchanges (DEXs), and other DeFi applications. This partnership also aims to implement a secure random number generator for gaming applications, expanding the possibilities for the Findora ecosystem into the future.
---
Band Protocol's Price Feed is Now Available on Findora Mainnet
Integrating Band Protocol's price feeds provides builders on the Findora network with reliable and accurate data for their applications. This integration enables the creation of robust lending protocols, facilitates seamless decentralized exchange (DEX) functionality, and provides a powerful and secure random number generator for gaming dApps that will require it. This integration enhances the overall reliability and functionality of projects built on Findora, ensuring a solid foundation for innovation and growth.
Findora's ongoing goal is to expand the range of top-notch applications that utilize the company's distinctive ZK technologies. Some of these applications require robust, real-time, and highly secure price oracle feeds, which is where our price feed oracle comes into play. Band's reputation as a leading oracle provider will help to attract a diverse range of developers and projects to the Findora network.
---
Band Protocol's Contribution to the Success of Findora's Grant Program
Findora has recently launched its grant program and announced its initial recipients. Band Protocol plays a critical role in ensuring the success of Findora's grant program by supporting current and future recipients. As a trusted oracle service provider, Band offers the necessary tools and infrastructure for Findora developers to build decentralized applications (dApps) within the Findora ecosystem. Band's oracle technology is particularly instrumental in enabling DeFi projects, which are essential for the growth of the Web3 ecosystem.
---
Next Milestones for this Integration
Moving forward, Band and Findora will focus on future integrations that aim to revolutionize gaming on the Findora network. The teams are actively working on providing a verified random number function via the Band Protocol, which is a crucial tool for gaming developers seeking a secure and transparent gaming experience. Combined with Findora's unique ZK capabilities, Band's partnership with Findora is unlocking new and innovative possibilities in Web3 gaming.

"Band Protocol is an essential partner for us. They're a great team that is deeply committed to decentralization and shipping a powerful product for developers in our ecosystem. We're excited to see what will be built on Findora using Band in the coming months and years."
 ~ Sam Harrison, CEO of Discreet Labs

By joining forces, Band Protocol and Findora are set to reshape the DeFi landscape on the Findora network, foster innovation in Web3 gaming, and drive the growth of the decentralized finance ecosystem. With Band Protocol's robust price feed oracle services integrated into Findora, developers have the necessary tools to build secure, reliable, and cutting-edge applications. The integration between Band Protocol and Findora marks an important milestone in the journey toward a more decentralized and interconnected future.
---
Starting to Build on Findora!
Developers building on Findora now have the opportunity to create more reliable lending protocols, decentralized exchanges (DEXs), and other decentralized finance (DeFi) applications by utilizing Band Protocol price feeds on the Findora mainnet.
To get started with Band Protocol on Findora, refer to this documentation for the contract address of Band Protocol price feeds and example code.
---
About Band Protocol
Band Protocol is a cross-chain data oracle platform with the aspiration to build high-quality suites of web3 development products. The flagship oracle solution aggregates and connects real-world data and APIs to smart contracts, enabling smart contract applications such as DeFi, prediction markets, and games to be built on-chain without relying on the single point of failure of a centralized oracle. Band Protocol is backed by a strong network of stakeholders including Sequoia Capital, one of the top venture capital firms in the world, and the leading cryptocurrency exchange, Binance.
More about Band Protocol: Linktree
---
About Findora
Findora is a Layer-1 protocol delivering zero-knowledge solutions to Web3.
Findora integrates two ledger into a single chain: an EVM ledger for interoperability and a UXTO ledger optimized for zk operations. This dual-layer architecture lets Findora encrypt blockchain data so that it can be deployed for public use while remaining private. By providing new use cases, Findora's zk tech prepares Web3 for real-worldreal world adoption.
We appreciate our developers and would love to onboard you to the Findora ecosystem. Please reach out, and join our social channels for more.
Discord | Twitter | Reddit | Telegram | YouTube | LinkedIn | Facebook | Newsletter