Community
Band Protocol July 2021 Community Update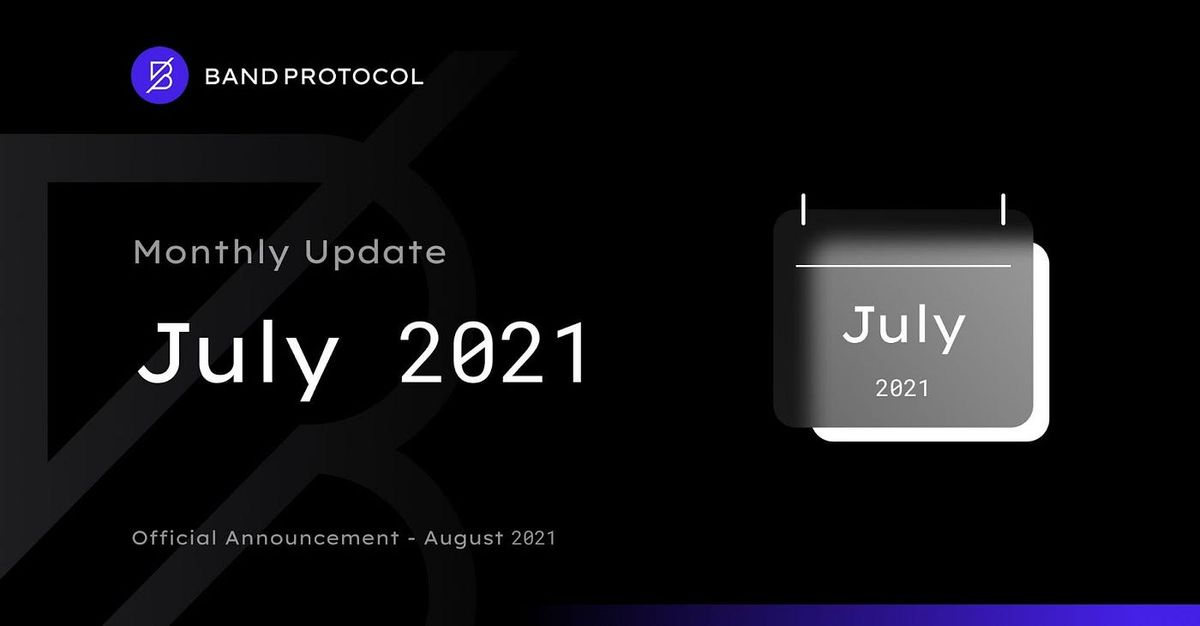 Dear Band Community,
The month of July proved to be a rollercoaster with positive learning experiences with the feedback help of our community and validators. We are proud to share that our team has been able to use the time effectively to plan, continue to onboard institutional-grade data providers utilizing BandChain Phase 2, and scope out the next steps for migration with specific milestones for success.
We will first share the Phase 2 Migration Milestones followed by the normal community update format covering technical updates, integration developments and more.
Phase 2 Mainnet Migration
The BandChain Phase 2 Mainnet upgrade will bring streaming revenue into production where institutional-grade data providers can earn revenue directly on-chain from decentralized protocols and developers. The upgrade also brings an 800% increase in throughput for oracle requests to satisfy the growing demand and adoption of Band Protocol oracles for scalable, secure data on-chain.
The Band Protocol team is excited to share our next steps towards the BandChain Phase 2 Migration with specific milestones intricately thought out and planned alongside our validator community.
Recently, the team has successfully performed a mock internal migration simulating the real mainnet environment. In the next week, we will be proceeding with a follow-up dress rehearsal migration involving our mainnet validators.
Once that's complete, we will finalize the necessary procedure to commence the real migration, which includes:
Submit Mainnet Proposal
Proposal Concludes
Phase 2 Mainnet Migration
Each milestone is to be completed on a rolling basis, we will be providing updates as the team continues to check off progress into the leadup to the Phase 2 Mainnet Migration.
Following shortly after the completed Mainnet Upgrade, we will be submitting a proposal to support the Cosmos IBC Integration,Starport Integration and introduce the new on-chain payment protocol
Tech Updates
In July, the total number of oracle requests on BandChain surpassed 8,466,812 without incident or issue. All Band Protocol integrated used a Proof-of-Authority network running in parallel during the first Phase 2 upgrade and are now back on GuanYu after the successful rollback. No integration or user funds were affected.
Notable BandChain Update
With the Phase 2 Mainnet upgrade postponed, the engineering team investigated the root cause of the upgrade fail, promptly identified and resolved the issues followed by a rewrite of the upgrade documentation for validators and an internal migration test which was successful.
The next steps include another Migration Test with validators using the same procedures as the real Mainnet Upgrade as a rehearsal to identify and prevent any unforeseen circumstances arising during the upgrade in production.
We have also been able to increase the maximum size of raw report and have parameterized it so governance votes can be used to change certain parameters after the new chain has launched.
Notable Band Standard Dataset Update
Our feeder logic has been optimized to add further redundancy and increase the robustness of the overall system. This means that the team can now begin to kickstart the overall design and implement further components to deliver an even stronger price dataset for DeFi to integrate.
The internal monitoring system has been improved to handle incidents on each blockchain network that the Band Standard Dataset supports and we have added more price symbols supported on our Ethereum Mainnet feeder.
Notable CosmoScan Update
The CosmoScan block explorer has a new IBC page to show received and sent packets along with more details on the oracle request page including:
request details that introduce on Laozi features (Prepare Gas, Execute Gas, Fee Limit, Fee Used by request)
IBC badge in the case that the request is created via IBC
Display block number when a certain request has been resolved
In addition, the block page has been improved with more details on resolved requests within a block and an IBC transactions section for accessibility and visibility.
You can now also watch full message details as a JSON on the transaction page. Check out the new updates on our testnet explorer for Laozi:
https://laozi-testnet2.cosmoscan.io/
Fantom Integration Update
Fantom shares a progress update with Band Protocol alongside their DeFi ecosystem which has been able to grow and operate with unparalleled security for applications such as fMint, Fantom Finance's synthetic derivatives, CREAM Finance and many more exciting projects to come using Band Oracles.
The Band Standard Dataset supports over 230+ oracles for crypto assets, foreign exchange and commodities ready for developers to integrate on the Fantom network.
Omm Finance Integration
Omm Finance, a cross-chain money market where anyone can lend and borrow assets backed by top tier funds Hashed, CMS Holdings, and FBG Capital, has integrated with $BAND for secure and decentralized price oracles upon launch on Mainnet.
Alongside multi-billion funds, are strategic integrations including Paul Nattapatsiri and Kevin Lu from the Band Protocol team who will contribute to the long-term growth and oracle design, Andy and Jackson from the core Synthetix team who have pioneered on-chain governance.
Omm Finance will launch on ICON initially with three borrowing markets for ICX, USDS and IUSDC which $BAND price feeds will be used to retrieve reliable and accurate exchange rates, collateralization requirements, borrowing limits, risk ratios and liquidation mechanisms.
Working with Band Protocol, Omm Finance's oracle uses an aggregate of up to 10 reliable institutional-grade data providers including Brave New Coin, CryptoCompare, CoinGecko, CoinMarketcap among many others which update on a 0.5% deviation interval or baseline 5 minutes time interval.
With ICON Network being the first platform for Omm to launch, $BAND will be working with both teams to support and provide price oracles for new assets from other chains including Bitcoin, Ethereum and ERC20 tokens once ICON launches BTP (Blockchain Transmission Protocol).
This leads to strategically supporting Omm Finance to launch and expand cross-chain capabilities using the network of the leading blockchain platforms where Band Protocol is integration-ready for developers including both L1 and L2.
Cosmos Integration Update
Band Protocol has been integrated into the Cosmos ecosystem, through Starport, to further the realization of the Internet of Blockchains. With this Band Protocol integration in Starport, the Cosmos blockchain development tool, newly created chains are able to exchange feeds of varying types of data by using an oracle and the Cosmos interoperability standard: Inter-Blockchain Communication protocol (IBC).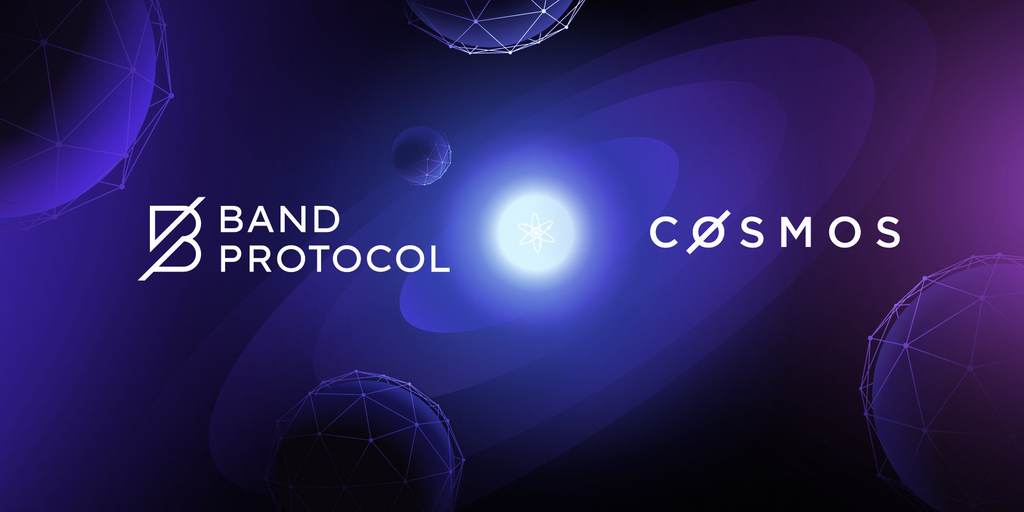 SCB10X Global DeFi Summit Panel
Band Protocol CEO, Soravis Srinawakoon, joins the Global DeFi Summit panel on 'Band Protocol & the Future of #DeFi Price Oracle', hosted by SCB10X, one of the largest commercial banks in Thailand.
---
Closing Remarks
Our priority continues to be focused on the successful launch of BandChain Phase 2 and the rigorous testing procedures in the leadup to the Phase 2 Mainnet Migration. We look forward to sharing progress updates for each milestone with our community — stay tuned on Twitter!
During this period, the team will continue to work closely with more institutional-grade data providers on streamed revenue implementation and onboarding. Thank you for your continued support.
---
About Band Protocol
Band Protocol is a cross-chain data oracle platform with the aspiration to build high-quality suites of web3 development products. The flagship oracle solution aggregates and connects real-world data and APIs to smart contracts, enabling smart contract applications such as DeFi, prediction markets, and games to be built on-chain without relying on the single point of failure of a centralized oracle. Band Protocol is backed by a strong network of stakeholders including Sequoia Capital, one of the top venture capital firms in the world, and the leading cryptocurrency exchange, Binance*.*
Website | Twitter | Discord | Telegram | Blog | Youtube | Linktree