Community
Band Protocol Launches Grants Program to Accelerate Ecosystem Growth!
Band Protocol, a leading decentralized oracle network, is thrilled to announce the launch of its Grants Program.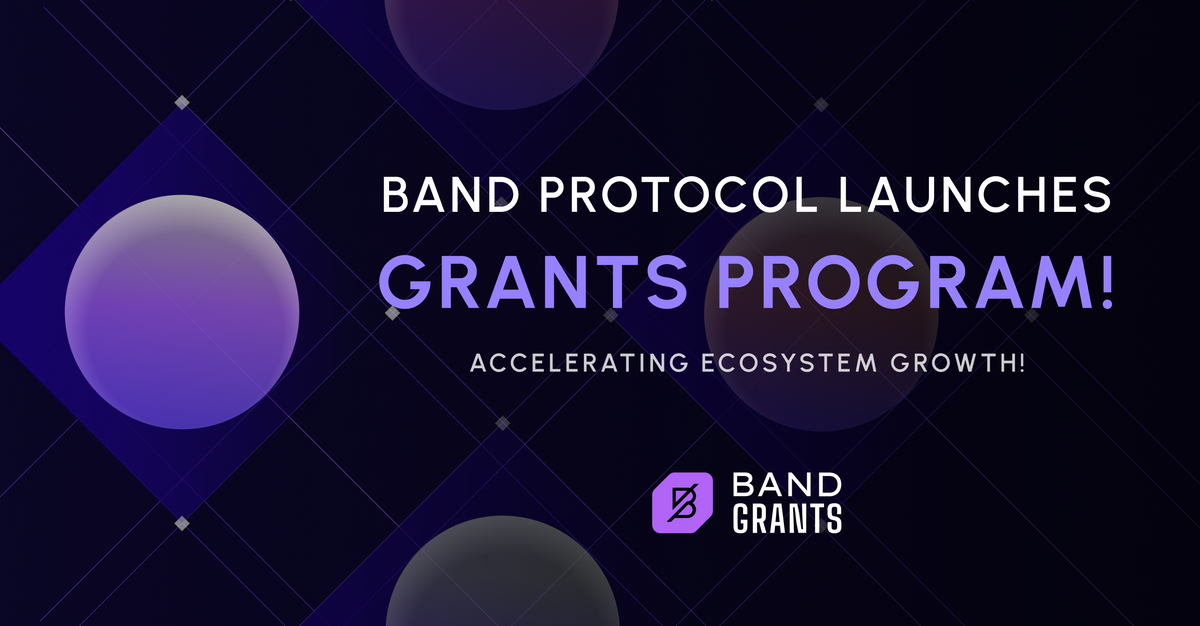 Band Protocol, a leading decentralized oracle network, is thrilled to announce the launch of its Grants Program. The Band Protocol Grants Program aims to foster innovation, collaboration, and development within the Band ecosystem by supporting projects that contribute to the growth and advancement of decentralized applications and Web3.
As a decentralized oracle solution, Band Protocol plays a crucial role in enabling secure and reliable data feeds for various blockchain applications. By connecting smart contracts and blockchains with real-world data, Band Protocol empowers developers to create a wide range of decentralized applications (dApps) that require trusted and verifiable external data.
The introduction of our grants program showcases Band Protocol's unwavering dedication to foster a dynamic and flourishing ecosystem. We are committed to provide support and technical assistance to innovative projects and developers. With this program, our goal is to inspire the creation of groundbreaking use cases, extend the impact of decentralized applications, and accelerate the adoption of blockchain technology.
---
The Band Protocol Grants Program is designed to support projects in four main categories:
1. Core Infrastructure Grants:
Grants will be awarded to projects with a focus on improving the core infrastructure of Band Protocol. This includes enhancing the oracle infrastructure, conducting security audits, and developing tools and documentation to facilitate integration and usage.
2. Application Development Grants:
Band Protocol acknowledges the pivotal role dApps play in advancing the growth and acceptance of blockchain technology. Therefore, we are enthusiastic about providing support to projects that harness the potential of our oracle network to develop decentralized applications in diverse fields like DeFi, GameFi, Privacy, and beyond. This category aims to incentivize developers to explore the capabilities of the decentralized applications and protocols to create innovative solutions that leverage Band Protocol's decentralized oracle network.
3. Community Initiatives Grants:
Band Protocol understands the significance of cultivating an engaged and supportive community. To this end, grants will be awarded to initiatives that contribute to community growth, education, and awareness. Such initiatives may include hackathons, educational programs, community meetups, developer outreach programs, or any other events aimed at building a stronger community for Band Protocol.
4. Research Grants:
Band Protocol is offering research grants to academic and industry researchers who want to advance their knowledge of blockchain technology, especially topics related to Band. These grants will support related studies on various aspects of blockchain, such as scalability, security, privacy, and interoperability. By encouraging research, Band Protocol aims to contribute to the broader blockchain community's knowledge and drive the evolution of decentralized technologies.
---
Through this grants program, Band Protocol aims to expand the reach and impact of its oracle network, driving innovation and pushing the boundaries of what is possible in the decentralized ecosystem. By supporting promising projects, Band Protocol is actively cultivating a robust and diverse ecosystem that will drive the next wave of blockchain-powered applications.
Band Protocol firmly believes in the power of collaboration and is excited to work alongside talented developers, researchers, community builders, and visionaries who share a passion for building a decentralized future. The Band Protocol Grants Program is now open for applications, and interested individuals or teams are invited to submit their proposals here: Link. Successful grant recipients will also gain access to technical resources, mentorship, and guidance from the Band Protocol team.
Let's work together to build a decentralized future empowered by secure and reliable data oracles!
---
About Band Protocol
Band Protocol is a cross-chain data oracle platform with the aspiration to build high-quality suites of web3 development products. The flagship oracle solution aggregates and connects real-world data and APIs to smart contracts, enabling smart contract applications such as DeFi, prediction markets, and games to be built on-chain without relying on the single point of failure of a centralized oracle. Band Protocol is backed by a strong network of stakeholders including Sequoia Capital, one of the top venture capital firms in the world, and the leading cryptocurrency exchange, Binance*.*
Website | Twitter | Discord | Telegram | Blog | Youtube | Linktree