BandChain
Introducing cw-band: Seamlessly Integrate BandChain's Oracle Data into CosmWasm Smart Contracts
We are excited to unveil cw-band, a step-up solution that enhances the integration of BandChain's oracle data into CosmWasm smart contracts.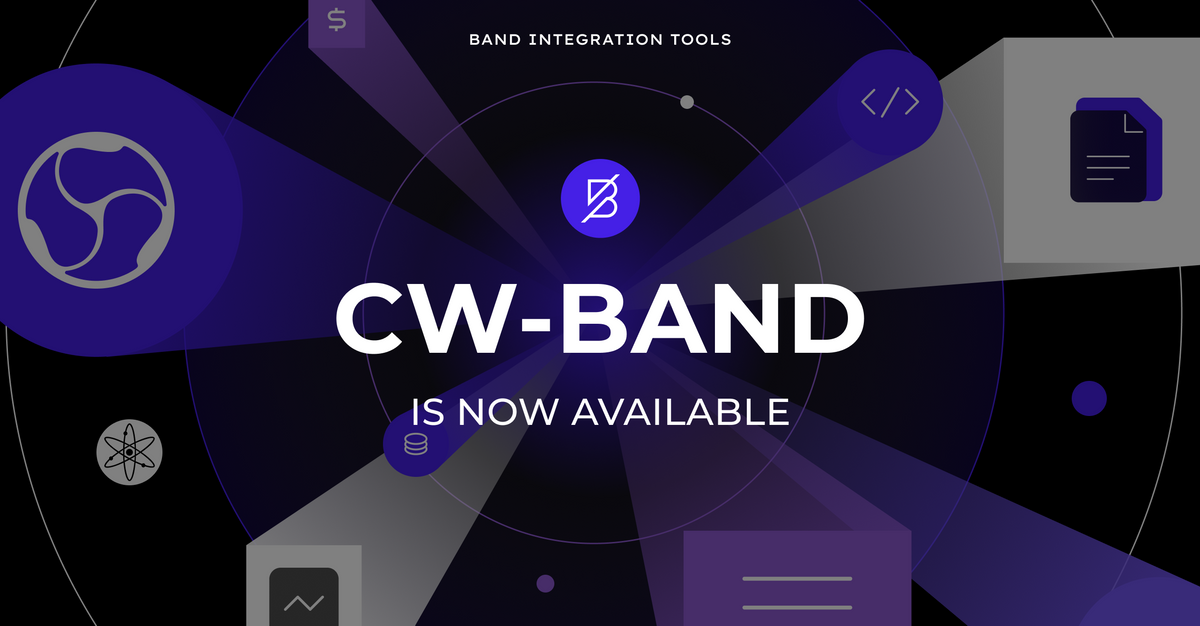 Introduction
We are excited to unveil cw-band, a step-up solution that enhances the integration of BandChain's oracle data into CosmWasm smart contracts. Designed exclusively for CosmWasm developers, cw-band empowers you to effortlessly incorporate real-time data from BandChain's oracle into your smart contracts, opening up a world of possibilities for decentralized applications (dApps).
---
Unlocking Possibilities for Cosmwasm Developers
To facilitate a smooth integration experience, cw-band introduces a set of standardized data types specifically designed for requesting and receiving data. With cw-band, integrating BandChain's oracle into your CosmWasm smart contracts has never been easier. Whether you require real-time price data, exchange rates, market trends, or any other essential information, cw-band provides a seamless and efficient pathway to access BandChain's robust oracle capabilities. Compatible with Cosmos-SDK-based blockchains through Inter-Blockchain Communication (IBC), cw-band grants you the flexibility to create innovative and reliable dApps with confidence.
---
Streamlining Data Integration
At the core of cw-band is a workflow that enables CosmWasm developers to seamlessly integrate BandChain data into their smart contracts. Let's take a closer look at the key steps involved:
Smart Contract Data Request: CosmWasm smart contracts initiate the process by creating an Inter-Blockchain Communication (IBC) packet to request specific data from BandChain. These packets contain all the necessary details and parameters for data retrieval.
Relayer Relay: Dedicated relayers play a pivotal role in the workflow, ensuring smooth communication between the smart contracts and BandChain. They monitor the IBC packets generated by the smart contracts and relay them to BandChain for processing.
BandChain Processing: After receiving IBC packets, BandChain processes data requests and sends an acknowledgement message containing a request ID back to the smart contracts. This notifies the requester that BandChain has received the request and indicates whether BandChain can process it or not.
Finalized Data Response: Once the requested data is finalized, BandChain generates a new IBC packet containing the verified data. The relayers listen for these packets and relay them back to the smart contracts, enabling them to securely utilize the received data.
---
Conclusion
The introduction of cw-band marks the first of many milestones in the effort to achieve seamless integration of BandChain data, particularly with CosmWasm smart contracts in this case. We invite all CosmWasm developers to explore the limitless potential of cw-band and revolutionize the way they build and deploy their dApps.
To learn more about cw-band and how to get started, visit our website here: Link
Join us in shaping the future of decentralized applications and elevate your CosmWasm experience to new heights with cw-band today!
---
About Band Protocol
Band Protocol is a cross-chain data oracle platform with the aspiration to build high-quality suites of web3 development products. The flagship oracle solution aggregates and connects real-world data and APIs to smart contracts, enabling smart contract applications such as DeFi, prediction markets, and games to be built on-chain without relying on the single point of failure of a centralized oracle. Band Protocol is backed by a strong network of stakeholders including Sequoia Capital, one of the top venture capital firms in the world, and the leading cryptocurrency exchange, Binance.
More about Band Protocol: Linktree