Integration
Band Protocol & Horizen EON Integration: Supercharging Horizen EON's Decentralized Ecosystem
Band Protocol is ecstatic to announce our integration with Horizen EON—Horizen's EVM-compatible sidechain and smart contract platform designed for massive scalability.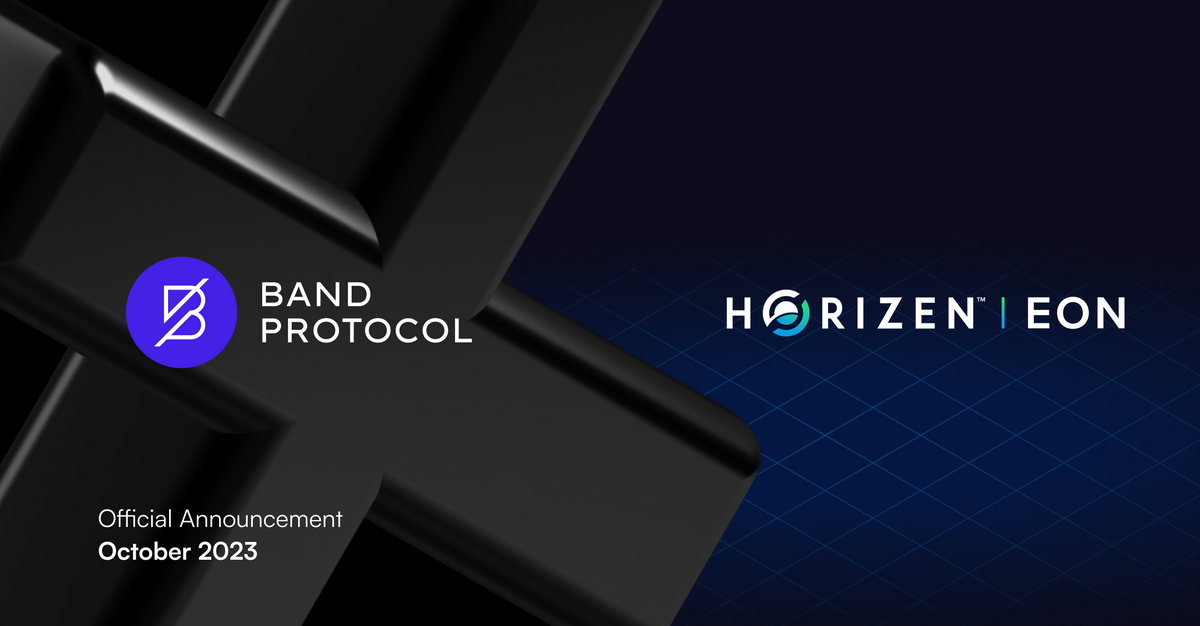 Band Protocol is ecstatic to announce our integration with Horizen EON—Horizen's EVM-compatible sidechain and smart contract platform designed for massive scalability. This collaboration introduces Band Protocol's secure and scalable data feeds to Horizen EON, supercharging its EVM network with our battle-tested oracle. This ensures that the emerging dApps on Horizen EVM have a reliable and proven data source to rely on.
---
Empowering EON's EVM Compatibility with Band Protocol's Robust Price Feeds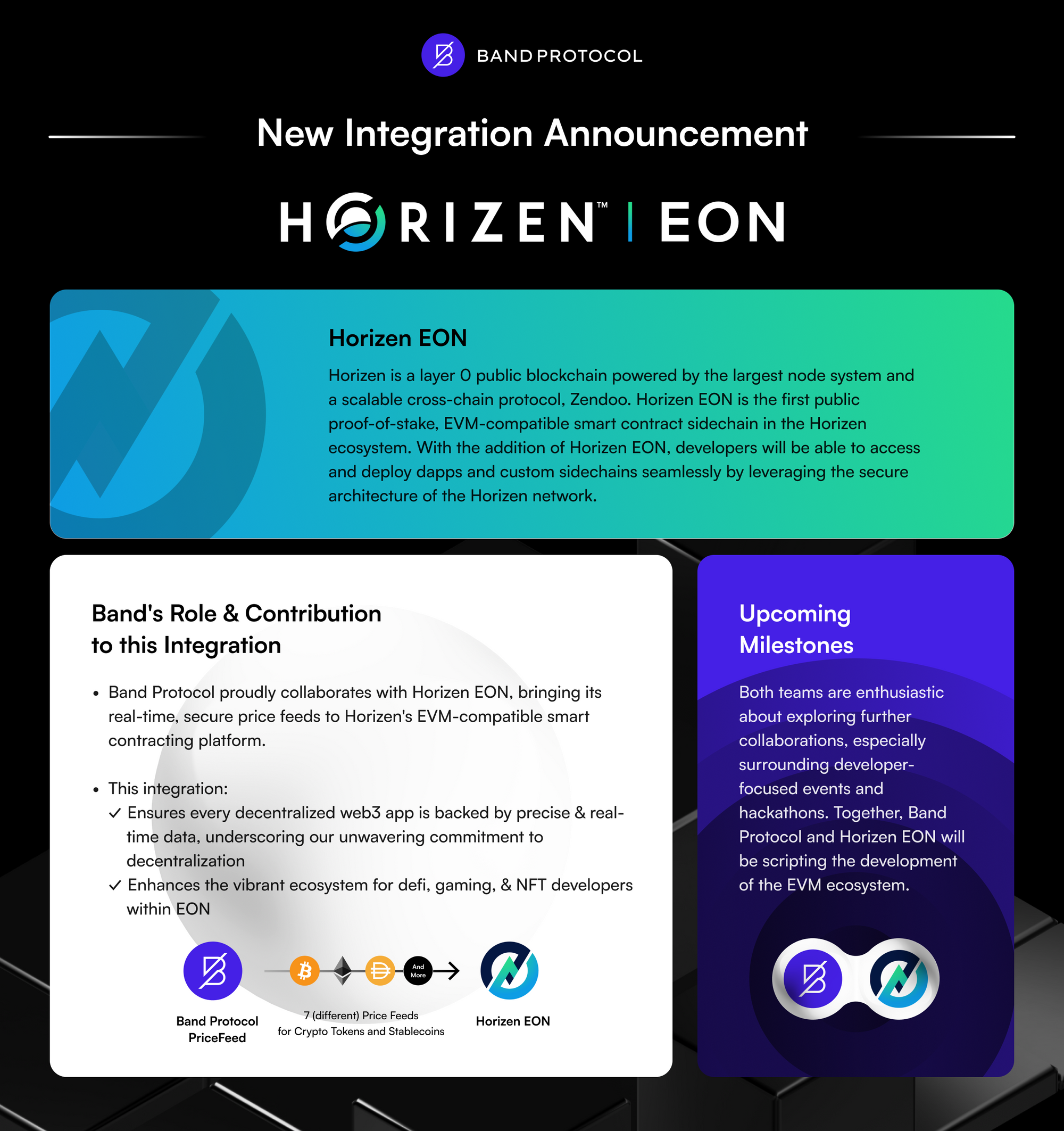 Band Protocol proudly joins forces with Horizen EON, delivering its real-time, secure price feeds to Horizen's EVM-compatible smart contracting platform. With its Ethereum compatibility, Horizen EON provides a platform where decentralized applications can utilize Horizen's cross-chain transfer protocol (CCTP) for secure cross-chain communication and asset bridging within the Horizen ecosystem.
This integration fortifies an already robust environment for developers within the EON ecosystem. With this enhancement, Horizen developers diving into DeFi, gaming, and NFT applications on EON will now gain access to timely and accurate data feeds.
---
Band Protocol's Pillar Role: Ensuring Secure Data Integrity on EON
As the pioneering oracle to integrate with Horizen EON, Band Protocol is at the forefront of the complete developer experience (DevX) Horizen EON provides. Through its robust toolkit, Band Protocol unveils a new horizon for decentralized applications on Horizen EON. In the intricate landscape of blockchain, the importance of data integrity cannot be overstated. Recognizing this, Band Protocol, in close collaboration with the Horizen EON team, ensures that data feeds are authentic, precise, and timely. This collective approach fortifies the EON ecosystem, protecting it from threats like data manipulation and guaranteeing that data consistently reflects real-world metrics.
---
Horizen EON's Expansion: Band Protocol's Role in Attracting Web3 Developers
Through its integration with Band Protocol, Horizen EON is primed to expand its influence, attracting more web3 developers and enthusiasts to build groundbreaking applications on the Horizen platform. This includes:
Innovators who are eager to exploit the unmatched flexibility of Horizen EON.
Visionaries who are determined to break traditional blockchain barriers by leveraging Horizen EON's unparalleled zero-knowledge proofs for enhanced privacy and scalability.
EVM developers who are striving for a harmonious blend of speed, security, and scalability.
Many More…
---
What Awaits on the Horizon
The journey is far from over. Both teams are enthusiastic about exploring further collaborations, especially surrounding developer-focused events and hackathons. Together, Band Protocol and Horizen EON will be scripting the development of the EVM ecosystem. Stay tuned for more exciting announcements!
---
---
About Horizen
Horizen is a layer 0 public blockchain powered by the largest node system and a scalable cross-chain protocol, Zendoo. Horizen EON is the first public proof-of-stake, EVM-compatible smart contract sidechain in the Horizen ecosystem. With the addition of Horizen EON, developers will be able to access and deploy dapps and custom sidechains seamlessly by leveraging the secure architecture of the Horizen network.
Start building on Horizen EON today! Visit eon.horizen.io to get started
---
About Band Protocol
Band Protocol is a cross-chain data oracle platform with the aspiration to build high-quality suites of web3 development products. The flagship oracle solution aggregates and connects real-world data and APIs to smart contracts, enabling smart contract applications such as DeFi, prediction markets, and games to be built on-chain without relying on the single point of failure of a centralized oracle.
More about Band Protocol: Linktree