Education
Whitepaper Digest #3: Decentralization, Validity, and VRF
Band Protocol is reducing the barrier to entry for enterprises and broadening the horizons of data availability for the growing demands of blockchain applications.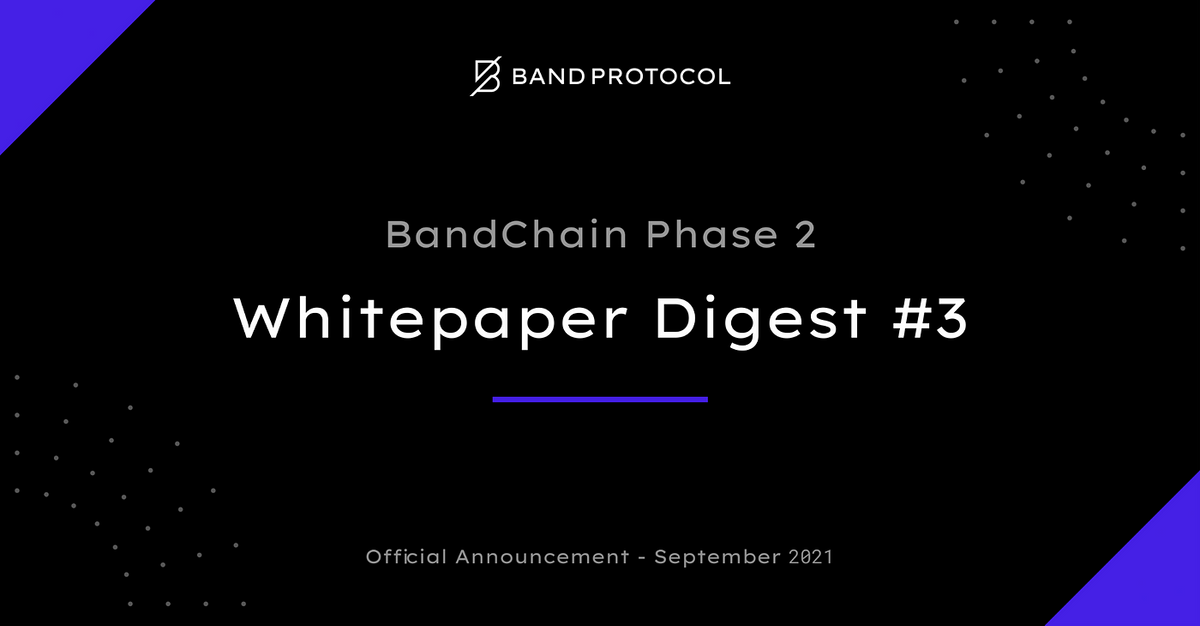 Band Protocol is bringing a never seen decentralized data economy to life with BandChain Phase 2. By creating an autonomous marketplace for institutional-grade data providers and the users, decentralized applications, Band Protocol is reducing the barrier to entry for enterprises and broadening the horizons of data availability for the growing demands of blockchain applications.
Band Protocol is building a decentralized oracle network that caters for traditional enterprises to enter the blockchain application industry and Web 3 developers to access trusted, reliable information that is external to on-chain networks. With Phase 2, we unlock a new decentralized data market economy, unrestricted access for institutions to earn revenue from the provisioning of data, support IBC implementation, and Cosmos starport.
We have covered the Band Protocol decentralized data market economy, scaling the supply and demand sides of the BandChain decentralized oracle network — we will now dive into how Phase 2 will strengthen the degree of decentralization for many use cases on the oracle network through the work on Lite-Client Verification, Band Standard Dataset, and Verifiable Random Functions (VRF) product that are upcoming.
Ensuring Validity For Cross-Chain Oracle Requests
To achieve manipulation-resistant and tamper-proof data that is reliable for blockchain applications to integrate, Band Protocol uses a Lite Client Protocol to verify a result that a user receives. An instance of the client is available on each blockchain platform that Band Protocol is integrated on and is used to verify the validity of the result for each data request.
The lite client verification process checks for 3 conditions:
that the proof received in the request can be used to construct a valid block header
that using the constructed block header, it can recover a valid set of validator addresses who signed on the block
that those validators have sufficient total voting power relative to the system total
Decentralized Standard Price Reference
Since the initial launch of the Standard Dataset back in October 2020, we have seen an exponential increase in adoption and usage of Band's price oracles across numerous chains and sectors.
As this trend continues to propagate, the need for stronger decentralization and robustness of our price feed becomes ever more crucial. With the next major upgrade of our Standard Dataset, we will be adding a new mechanism that will allow anyone to send price update transactions to our oracle contract themselves, all secured and verified by our lite client verification architecture and a challenge mechanism.​​
Verifiable Random Number Generators
Aside from our Standard Dataset price oracle, the flexibility offered by Band's oracle design allows it to support countless other use cases and data types.
One of the highly awaited features of BandChain Phase 2 is our upcoming Verifiable Random Function (VRF) functionality. By providing a tamper-proof method of generating unpredictable yet verifiably random and provably fair values, this upcoming addition to Band Protocol's oracle functionality will greatly extend the range of applications and use cases that is supported. Examples of such areas are:
NFTs
Blockchain-based Gaming
Lotteries & Raffles
Betting
Randomized Selection
This feature is currently in active development with pilot partners prepared to move forward with implementation in a test environment.
Looking Forward
These developments create more offerings to the users of Band Protocol to empower robust and dynamic applications without compromise on the degree of decentralization.
Stay tuned for upcoming updates and AMA events following our upgrade. We will post details on our official Twitter account:
---
About Band Protocol
Band Protocol is a cross-chain data oracle platform with the aspiration to build high-quality suites of web3 development products. The flagship oracle solution aggregates and connects real-world data and APIs to smart contracts, enabling smart contract applications such as DeFi, prediction markets, and games to be built on-chain without relying on the single point of failure of a centralized oracle. Band Protocol is backed by a strong network of stakeholders including Sequoia Capital, one of the top venture capital firms in the world, and the leading cryptocurrency exchange, Binance*.*
Website | Twitter | Discord | Telegram | Blog | Youtube | Linktree