Band Continues To Support Alpha Venture DAO on Homora V2's Launch on Optimism
Band Protocol has long worked with Alpha Venture DAO, integrating Band Protocol's price feed through Alpha Oracle Aggregator which helped…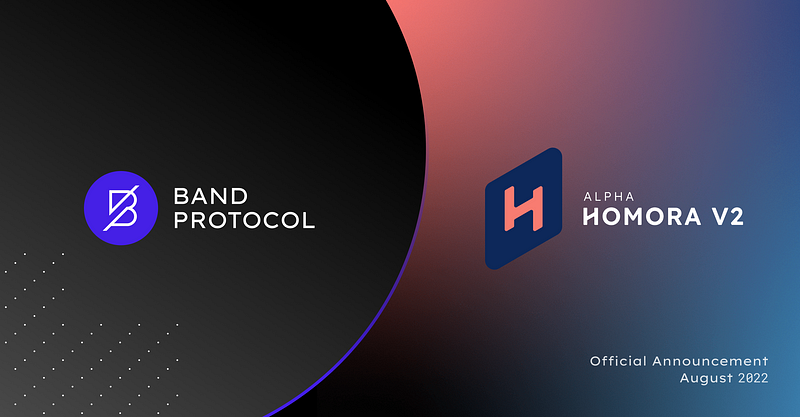 Band Protocol has long worked with Alpha Venture DAO, integrating Band Protocol's price feed through Alpha Oracle Aggregator which helped secure Homora V2 (Alpha's flagship leverage yield farming product) with a consistent and reliable price feed at all times. This integration ensured more security, scalability, and flexibility for the Alpha DeFi ecosystem.
We are now excited to announce our newest collaboration with Alpha Venture DAO on Homora's launch on the Optimism network. Optimism's rapidly growing ecosystem and its endeavor to become the leading Layer 2 chain has enticed Homora V2 to onboard Optimism as its first ever Layer 2 chain. Band Protocol's latest collaboration with Homora V2 is a testament to our ongoing long-term integration with Alpha Venture DAO as we strive to contribute to the development of the Web3 ecosystem.
Our track record of providing secure, fast, and robust price feed over the years, combined with our ambition to provide impeccable service to Homora V2 is why Alpha Venture DAO have decided to team up with Band Protocol on this latest project.
"Band Protocol has been our long-time partner since Homora V2 first launched. They have continued to provide fast and robust price feed, therefore keeping Homora V2 safe from price manipulation. They also took swift actions, notified, and communicated with us promptly to any urgent matters with the best example demonstrated during the UST depegging event. We have since developed a close relationship with Band Protocol and are excited to have them support our launch on the Optimism mainnet."
—Nipun, Head of Tech at Alpha Venture DAO
---
How does Band support Alpha Venture DAO's Alpha Oracle Aggregator?
Data Oracle is the foundation and backbone that determines the level of security and validity of DeFi protocols. The rapid growth and development in the DeFi space over the years have provided Data Oracle providers with numerous new challenges to overcome. Band Protocol is proud to continuously evolve, adapt, and pioneer new solutions to meet the current and upcoming needs of DeFi protocols and other projects that aim to revolutionize Web3.
This latest integration will support Alpha Venture DAO's Alpha Oracle Aggregator, an oracle aggregator that helps to verify aggregated real-world data and APIs that power smart contracts. The Alpha Oracle Aggregator is a flexible and customizable oracle solution that utilizes Band Protocol's framework. More specifically, this integration will support Homora V2's price feed for lending assets on Iron Bank. Our secure and reliable price feed will give Homora V2 users' a great assurance that collateralization and liquidation metrics used to calculate deposited assets are highly credible and accurate.

About Band Protocol
Band Protocol is a cross-chain data oracle platform with the aspiration to build high-quality suites of web3 development products. The flagship oracle solution aggregates and connects real-world data and APIs to smart contracts, enabling smart contract applications such as DeFi, prediction markets, and games to be built on-chain without relying on the single point of failure of a centralized oracle. Band Protocol is backed by a strong network of stakeholders including Sequoia Capital, one of the top venture capital firms in the world, and the leading cryptocurrency exchange, Binance.
Website | Whitepaper | Telegram | Medium | Twitter | Reddit | Github

About Homora
Homora V2 is DeFi's first lending and leveraged yield farming platform built by Alpha Venture DAO. It is currently available on Ethereum, Avalanche, Fantom, and now Optimism.
Linktree | Website | Twitter | Discord

About Alpha Venture DAO (Previously Alpha Finance Lab)
A Builders' DAO. We explore and innovate at the fringes of Web3 and drive significant value to Web3 users, and ultimately, alpha returns to the Alpha community.
Join our Telegram/Discord for the latest updates, follow us on Twitter, or read more about us on our Blog and Document!