Band Protocol AMA Recap with Desmos Network: Revealing the Newest Use Case for Band Protocol's…
Last month, Band Protocol hosted an AMA session with Desmos Network, a layer 1 blockchain based on Cosmos SDK that is specifically designed…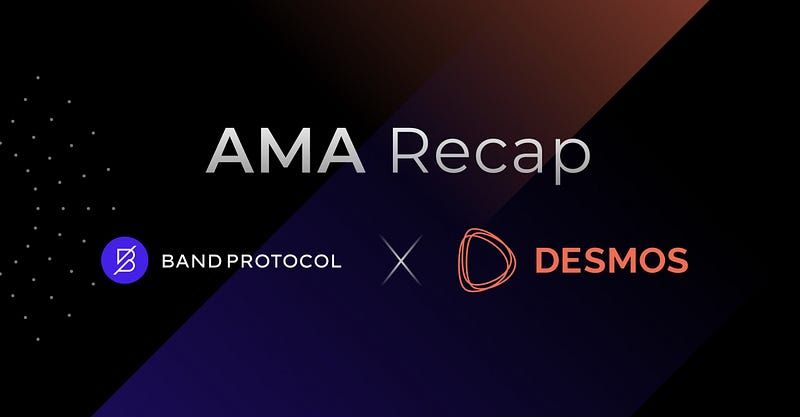 Band Protocol AMA Recap with Desmos Network: Revealing the Newest Use Case for Band Protocol's Oracle
Last month, Band Protocol hosted an AMA session with Desmos Network, a layer 1 blockchain based on Cosmos SDK that is specifically designed to build decentralized social networks. This AMA recap will highlight the key takeaways, specifically the integration of Band Protcol's oracle script on the Desmos Network and the new use case for Band's oracle script that was discussed during the AMA with Lorenzo (DevRel Specialist of Desmos Network) and Leonardo (Director of Product at Desmos Network).
For a full recording of this session, please check out the recorded AMA video: Link

QUESTIONS AND ANSWERS IN LIVE AMA
Q1: (Leon) Could you give us a brief and more in-depth explanation regarding what the Desmos Network is, and what's the vision here? I personally see Desmos Network as the social hub for the Cosmos Ecosystem, am I correct here?
Leonardo: Desmos Network is a protocol to build decentralized social networks. To put it simply, it's like a set of rules, exposed by different modules, that all the apps built on the top of Desmos have to follow. Each one of these modules takes care of a different aspect of a social network. For example, there's one for the Desmos decentralized Identity, the Profile module, another for the contents, the posts module, one for the user's following/follower, the relationships module, and so on.
About Desmos being the social hub for the Cosmos Ecosystem, I would say not exactly, it's a broader vision than just being the social hub for the Cosmos Ecosystem, in fact, we are targeting all those users that are concerned with the centralized social network model. So those who want to interact in a platform that advocates values such as freedom of speech, censorship resistance, and a fairer way of monetizing user's content.
---
Q2: (Leon) Leonardo, can you share with us how Desmos Network integrates and uses Band Protocol?
Leonardo: The first and one of the core modules to be released with the mainnet launch of Desmos has been the Profile module. The profile module handles the user's decentralized identity. The user has the possibility to link it with two possible elements: other blockchain wallets and external applications. Integration with Band Protocol makes it possible to link an application to a Desmos profile.
How? Let's take the Twitter account link as an example.
If a Desmos user wants to link their Desmos profile to their Twitter account, all they have to do is sign (with their Desmos private key) proof of ownership of content (in this case their Twitter handle) and then post this proof on Twitter. Later on, the data sources will use our APIs to get those data and verify their correctness. Once the data has been verified, the oracle scripts will then store it inside the BandChain as proof of connection so that it can be later queried and verified.

Questions from the Community
Q1: How does the partnership between Band Protocol and Desmos Network support the development of new products such as Scripta and Butter, which exemplify the growing demand for a shift in social media networks from Web2 to Web3?
Leonardo: The partnership between Desmos and Band helps to create a trustable way with which users can verify their identity and ownership over any kind of account they have, without the need to input personal information in Scripta, Butter, and any other dApp. This way the problem of impersonification inside Desmos-based dApps drastically decreases, leaving little to no room for scammers to operate as a trusted source to scam users.
---
Q2: What are the plans of Desmos Network for 2023 in terms of onboarding new developers and supporting the current pool of developers to grow the Desmos community and utilize Band's oracle scripts for verification across various blockchains?
Leonardo: Desmos's biggest plan for 2023 is to create new products. After about 3 years of development to bring the protocol to life, we are now just getting started with creating products that enable the onboarding of new users. To make this happen, we have started moving on as many fronts as possible.
First of all, we as Desmos are building Butter, our first social network for which Leonardo is responsible. I would like to specify first of all that the protocol is open source, so any developer who wants to use it can do so without any limitations or permission. In addition to this, we have started the Desmos Kickstart Program, through which we aim to fund and help projects with social features that are developed using the Desmos protocol. At the same time, we are also getting involved with participation and collaborations at industry events and demonstrations, to make our technology known by the pools of web2 and web3 developers around the world as much as possible.
At this time, I am happy to say that we are also in contact with two Italian universities to pursue a project throughout 2023, which will see the development of some products in collaboration with teams of students who specialize in software development. In short, there is a lot of news coming up to grow the use of Band protocol and Desmos Network.
---
Q3: How does the verification system provided by Band Protocol's oracles, which fetches cryptographic proofs posted on Web2 social networks, enhance the security and authenticity of Desmos user-profiles and prevent impersonation?
Leonardo: The verification system we've built thanks to the Band Protocol framework enhances the security and prevents user impersonation. Also, thanks to the fact that the verification process uses both the Desmos chain (the private key) and BandChain (data sources + scripts) to ensure the relationship between a Desmos profile and a third-party app account. No one else besides the actual owner of the profile and a specific third-party app would be able to replicate the signature process, so even if someone registers on Desmos try to impersonate a famous entity or person, it would not be able to cross-verify their identity on any other platform, since they do not own any of their other accounts.
---
Q4: How does the partnership between Band Protocol and Desmos contribute to the larger movement toward a more democratic and decentralized social media ecosystem?
Lorenzo: The reason why Desmos was born is precisely this: to create a new ecosystem for social media so that they become a more democratic and decentralized communication tool. As Leonardo said earlier, we started with the idea of revolutionizing an entire system. Band Protocol, having been the first protocol to offer us the specifications we needed and to have interacted with the IBC protocol, was a fundamental element that allowed us to proceed with development quickly and efficiently. This collaboration has therefore made it possible to lay the foundations for creating a new generation of social networks in which users will be the real owners of their information and will be able to manage it at will, without being exploited by large companies that currently control this market.
---
About Desmos Network
Desmos Network is a Cosmos SDK-based layer 1 blockchain specifically designed to build decentralized social networks. Our goal is to build and promote a new generation of censorship-resistant decentralized social networks that make users responsible for their personal data.
Discord | Twitter |Telegram | Instagram | Website | GitHub | Twitch | Youtube
---
About Band Protocol
Band Protocol is a cross-chain data oracle platform with the aspiration to build high-quality suites of web3 development products. The flagship oracle solution aggregates and connects real-world data and APIs to smart contracts, enabling smart contract applications such as DeFi, prediction markets, and games to be built on-chain without relying on the single point of failure of a centralized oracle. Band Protocol is backed by a strong network of stakeholders including Sequoia Capital, one of the top venture capital firms in the world, and the leading cryptocurrency exchange, Binance.
Website | Whitepaper | Telegram | Medium | Twitter | Reddit | Github