Band Protocol launches price feeds on CLV
Band Protocol is proud to announce our latest integration with another project on the Polkadot ecosystem, CLV. Previously known as Clover…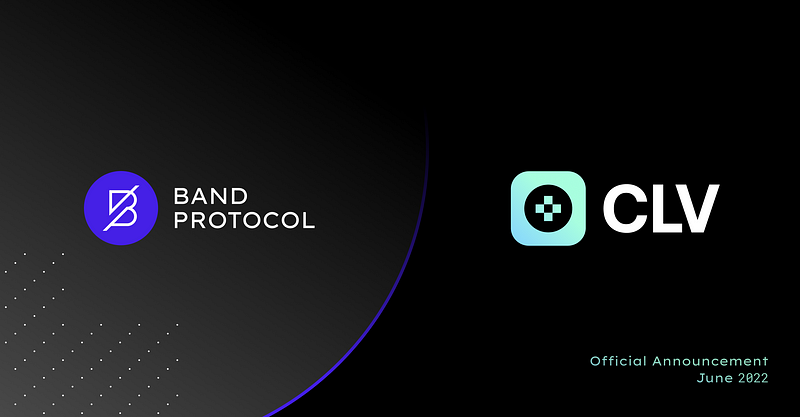 ---
Band Protocol is proud to announce our latest integration with another project on the Polkadot ecosystem, CLV. Previously known as Clover Finance, CLV has partnered with Band Protocol to bring secure and accurate data feeds to its infrastructure platform for cross-chain and decentralized applications. With interoperability and cross-chain in mind, CLV products offer great connectivity within the growing crypto space.
Different blockchain networks currently remain isolated in silos that cannot trustlessly communicate with each other. The isolation between different ecosystems has been a major barrier to mass adoption. This has resulted in many centralized third-party custodial services to come up with solutions to exchange financial assets in an efficient manner. However, these centralized solutions defeat the core blockchain concept of decentralization, transparency, and immutability.
CLV aims to solve the current challenge of trustless communication by creating a new level of interoperability by using its built-in SPV (Special Purpose Vehicle) chain simulation technology. This technology enables seamless cross-chain communication and trustless two-ways pegs between two separate chains such as Ethereum and Polkadot.
As a cross-chain compatible decentralized oracle that enables interoperability between smart contracts and the traditional web, Band Protocol's integration with CLV will help to enhance and extend smart contract capabilities for developers on the CLV ecosystem. Presently, lenders on CLV are using oracle feeds provided by Band Protocol.
Through this integration, current and future CLV developers can leverage Band Protocol oracles to connect to external data providers in a reliable, accurate and decentralized manner.
The Band Standard Dataset currently includes a collection of over 80+ qualified data feeds from a growing number of data sources. We provide additional ticker on request and a variety of End-to-End customization which gives developers an enhanced developing experience to help propel the growth of the Web3.0 ecosystem.

About CLV
Formerly known as Clover Finance, CLV is a Substrate-based specialized Layer 1 chain that is EVM compatible and cross-chain interoperable, essentially enabling developers to bridge DeFi dApps between Ethereum and Polkadot. CLV launched its mainnet in July 2021 with the support from various different partnerships and investments which include Polychain, Divergence Ventures, Alameda Research, Huobi, OKex's Ventures Arm as well as others. CLV won Polkadot's fifth parachain slot auction in December 2021. The project seeks to provide an intuitive blockchain infrastructure to reduce the effort and cost for DeFi developers.
Built as a blockchain operating system, CLV has a layer 1 blockchain, a smart contract platform, a multi-chain DeFi hub, and a cross-chain wallet. The protocol structure essentially has 4 different layers which include the storage layer, the smart contracts layer, the DeFi protocol layer, and the eApps layer.
The CLV Chain features a unique built-in SPV (Special Purpose Vehicle) Chain Simulation Technology, a mechanism that operates as a two-way peg system between blockchains. This allows the transfer of an asset from a base chain to a secondary blockchain and vice versa, enabling seamless cross-chain communication between networks. Instead of sending tokens from one chain to another, tokens are temporarily locked on the base chain while the equivalent amount of tokens is unlocked on the receiving chain.
Additionally, CLV offers a multi-chain wallet called the CLV Wallet, a non-custodial wallet that is multi-chain and multi-platform that helps users to manage crypto assets and interact with all types of dApps. This all-in-one wallet is designed for everyday use, including for DeFi, metaverse, and gaming purposes.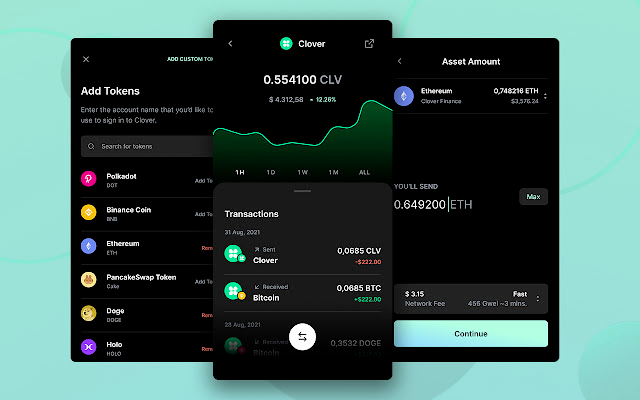 About Band Protocol
Band Protocol is a cross-chain data oracle platform with the aspiration to build high-quality suites of web3 development products. The flagship oracle solution aggregates and connects real-world data and APIs to smart contracts, enabling smart contract applications such as DeFi, prediction markets, and games to be built on-chain without relying on the single point of failure of a centralized oracle. Band Protocol is backed by a strong network of stakeholders including Sequoia Capital, one of the top venture capital firms in the world, and the leading cryptocurrency exchange, Binance.
Website | Whitepaper | Telegram | Medium | Twitter | Reddit | Github