Band Protocol Integrates with BitTorrent Chain
BitTorrent Chain (BTTC), a unique project that aims to revolutionise the market for P2P file-sharing platform, has integrated with Band…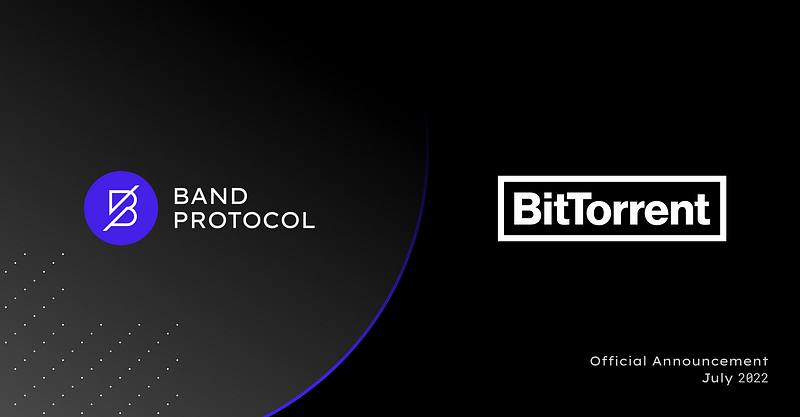 BitTorrent Chain (BTTC), a unique project that aims to revolutionise the market for P2P file-sharing platform, has integrated with Band Protocol to bring secure decentralized oracles to the first scalable heterogeneous cross-chain interoperable protocol on the TRON network. The globally renowned BitTorrent is an EVM cross-chain protocol designed with a PoS (Proof-of-stake) mechanism and leverages sidechains for the scaling of smart contracts on the Ethereum, TRON, and BNB Chains.
BTTC officially launched its mainnet in December 2021. Products in phase 1 support the wallet, the cross-chain bridge, the explorer, and the staking function. Later phases of BTTC's roadmap revolve around bringing in more dAap developers to build and grow BTTC's ecosystem, and extending its inter-connectivity to more blockchain networks in order to realize the goal of connecting all chains.
BTTC's integration with Band Protocol will enable BTTC to onboard many smart contract developers to start developing protocols ranging from DeFi and lending to gaming applications. The chain's compatibility with Ethereum-based smart contracts combined with a growing list of additional functions since the integration with the TRON network has allowed developers to easily migrate from other chains to the BTTC chain. As one of the leading blockchain network in the fields of DeFi and lending, NFT, decentralized storage, as well as others, TRON network can utilize BTTC's cross-chain interoperability and scalability to help it excel as the new hub of blockchain interconnectivity.
BTT, BTTC's native token, has allowed the creation of a token-based economy for networking, bandwidth, and storage resources on the BitTorrent network, therefore enabling network participants to capture the value of sharing bandwidth and storage. As BTTC develops further from this point with more dApps joining the ecosystem, the ecosystem will likely produce even more innovative use cases that can integrate the growing P2P platform market into the Web3 ecosystem.
The Band Standard Dataset currently includes a collection of over 80+ qualified data feeds from a growing number of data sources. We provide additional ticker requests and a variety of End-to-End customization which gives developers an enhanced developing experience that can help propel the development of the Web3.0 ecosystem.

About BitTorrent
Founded with a leading peer-to-peer sharing technology standard in 2004, BitTorrent, Inc. is a consumer software company based in San Francisco. Its protocol is the largest decentralized P2P network in the world, driving 22% of upstream and 3% of downstream traffic globally.
Its flagship desktop and mobile products, BitTorrent and µTorrent, enable users to send large files over the internet, connecting legitimate third-party content providers with users. With over 100 million active users, BitTorrent products have been installed on over 1 billion devices in over 138 countries worldwide.
Since November 2018, TRON (TRX), Binance (BNB), and Bitcoin (BTC) holders have the opportunity to purchase one-year subscriptions of BitTorrent or µTorrent products, including Ads Free and Pro for Windows. Pro includes anti-virus and anti-malware screening, file converting and playability in HD. Users can visit bittorrent.com or utorrent.com to learn more.

About Band Protocol
Band Protocol is a cross-chain data oracle platform with the aspiration to build high-quality suites of web3 development products. The flagship oracle solution aggregates and connects real-world data and APIs to smart contracts, enabling smart contract applications such as DeFi, prediction markets, and games to be built on-chain without relying on the single point of failure of a centralized oracle. Band Protocol is backed by a strong network of stakeholders including Sequoia Capital, one of the top venture capital firms in the world, and the leading cryptocurrency exchange, Binance.
Website | Whitepaper | Telegram | Medium | Twitter | Reddit | Github