Band Protocol Integrates with Chee Finance, Web3 Money Market Protocol
We're delighted to announce our price feed integration with Chee Finance, a Web3 money market built on Celo, Meter.io, BNB Chain, and…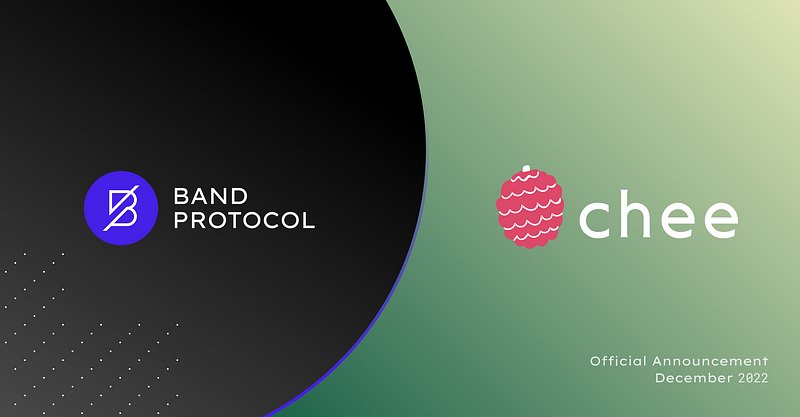 We're delighted to announce our price feed integration with Chee Finance, a Web3 money market built on Celo, Meter.io, BNB Chain, and Ethereum. This integration with Chee Finance helps to ensure that secure and decentralized price feeds are provided on Chee Finance, which enables Chee Finance to democratize access to DeFi products through permissionless lending and borrowing in a secure manner. Band Protocol has and will continue to work closely with the Chee Finance team on this integration.
---
What is Chee Finance?
Chee Finance is an advanced cross-chain web3 decentralized money market built on the Celo, Meter.io, BNB Chain, and Ethereum networks, currently offering money markets with ERC20 and NFT liquidity. Chee Finance aims to make cross-chain lending and borrowing effortless for users by becoming a one-stop cross-chain lending protocol to deposit on one chain as collateral and borrow on other chains.
The innovative Chee Finance protocol empowers users to easily lend, borrow, and earn interest with their digital assets. When depositing assets, lenders can choose to ensure liquidity to the protocol while earning passive income. Borrowers on Chee Finance can use over-collateralization in the lending process.
---
How does Band Protocol contribute to Chee Finance?
As a result of the price feed integration with Band Oracle, Chee Finance then has access to secure and decentralized price feeds, which helps to facilitate supply and borrowing events with the appropriate safety buffer. Our price feed oracle helps reassure Chee Finance users that the protocol is protected from data manipulation and single points of failure. Moreover, developers will also be able to enhance and extend their smart contract capabilities with our oracle.
---
Our Future Milestone with Chee Finance
The on-chain money market is still in its early stages and there is still so much we can expect to happen. Band Protocol looks forward to supporting Chee Finance on its mission to enable cross-chain collateral.
With Chee Finance's mission to build the best and most advanced lending and borrowing protocol, Band Protocol will continue to support Chee Finance as the main oracle provider. In addition, we will also explore other potential ways that we can work together to provide users with a safer, permissionless, and easy-to-use money market, ultimately further contributing to the decentralized financial market soon.
---
About Chee Finance
Chee Finance is a multi-chain money market with diverse web3 assets, such as ERC20 tokens, DeFi LPs, governance tokens, Staked tokens, and loan tokens. Chee Finance's mainnets are live on Celo, Meter.io, BNB Chain, and Ethereum.
---
About Band Protocol
Band Protocol is a cross-chain data oracle platform with the aspiration to build high-quality suites of web3 development products. The flagship oracle solution aggregates and connects real-world data and APIs to smart contracts, enabling smart contract applications such as DeFi, prediction markets, and games to be built on-chain without relying on the single point of failure of a centralized oracle. Band Protocol is backed by a strong network of stakeholders including Sequoia Capital, one of the top venture capital firms in the world, and the leading cryptocurrency exchange, Binance.
Website | Whitepaper | Telegram | Twitter | Medium| Youtube |Reddit | Github